How To Best Prevent A Cold In Your Newborn
Every year we look forward to fall's crisp weather, leaves changing colors and our favorite autumn-flavored coffee drink. It's all rather lovely, really.
The catch? Fall also means the start of flu season, which runs October through February.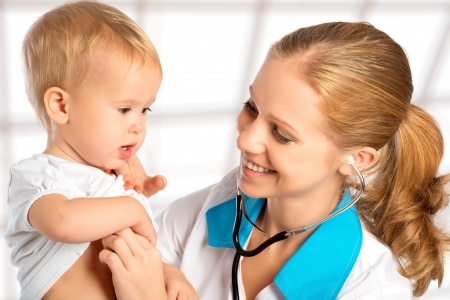 Especially for new parents, it can be a scary time of year because a baby's immune system isn't yet strong enough to fight off a major illness. The flu can affect a little one much worse than an adult who's had exposure to other viruses and infections throughout their lifetime. Short of keeping your child in a bubble, there's plenty your can do to protect your newborn from getting sick.
Start with these steps:
Protect your baby physically.
The world doesn't stop spinning for flu season. You've still got errands to run, shopping to do and holiday festivities to attend. So it's inevitable you'll need to take your child with you. That said, keep them close-by and warm, snuggled inside a wearable carrier or covered with a light blanket in the stroller.
Visit the pediatrician at certain times of the day.
You'll find that most pediatricians' offices have designated rooms for sick kids, but that doesn't keep the office completely germ-free. There are still tons of germy droplets in the air that can get your baby sick. If you have any well-child visits during flu season, schedule these for either the first or last slot of the day to reduce the chances you're child will be surrounded by sick ones.
Take care of yourself.
The truth is that you're the most likely culprit in bringing home a cold or flu. The best way you can take care of your baby is to take care of yourself! Do this by getting a good amount of sleep, eating well (especially food that's known for its immune-boosting properties), and drinking plenty of water.
Even following all of the precautions you possibly can, your little one can still get sick. Know when you need to visit a facility or call your doctor for help.
---